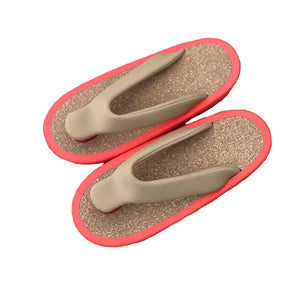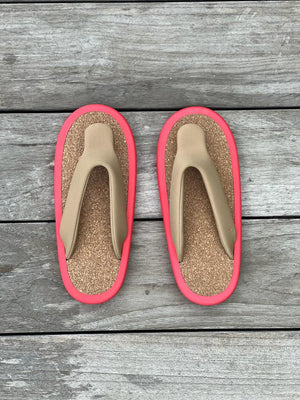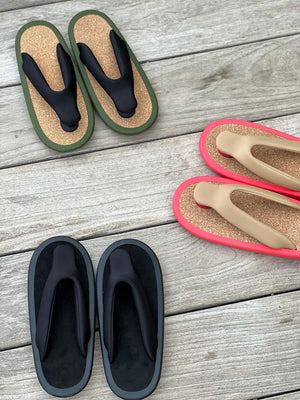 BLACK / RED CORK SANDALS
Naito is a well-established footwear artisan based in Gion, Kyoto, creating brand-new sandals based off of traditional Japanese footwear.
JoJo impresses with their memorable center straps (maetsubo). The design fits toes well helping the sandals grip tight to the feet, and considerably reduces common troubles like feet getting tired after wearing for a long time. They are made of a special cork that is also used for baby bottle nipples. They mold smoothly to match the angle of the toes and and are soft to the touch. Designed with premium materials to provide lightness and comfort in walking as well as eliminating the stress on your feet on hard asphalt.
Materials
The characteristically round shape of the rubber sole uses SBR to control the particular rubber odor. SBR is a common material used in tires that has superior strength and abrasion resistance. For everyday use and for favorites for years, a tough rubber sole is essential.
EVA that is used in the core of the rubber soles has a bouncy quality and is hard to wear out. With its elasticity, you don't feel stress on your feet on hard asphalt. We promise you lightness and comfort when walking with JoJo.
Available in 3 different colour ways