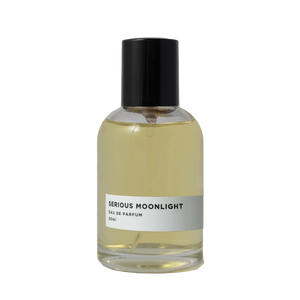 SERIOUS MOONLIGHT
Midnight, Flickering Lights, Nocturnal Flowers, Asphalt

Notes: Pomelo, Darjeeling Black Tea, Coconut, Night Jasmine, Wood, Indonesian Oud, Vanilla, Leather, Tar

Cruising through the sprawling city with our favorite mix tape playing on repeat, up and down the wooded California hills, the twists and turns illuminated by the moonlight. We arrive at the observatory overlooking the sparkling lights of the valley below, anticipating what else the night has to offer.

Size: 50ml

For external use only. Avoid spraying on fabric.